MPLS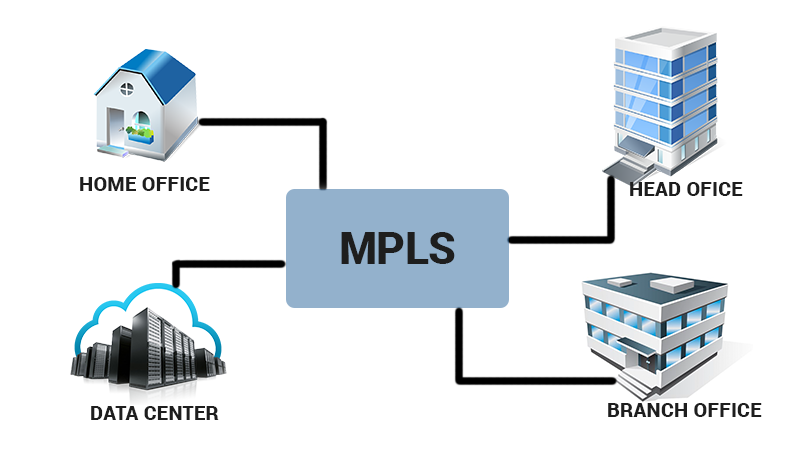 MPLS is a framework defined by the Internet Engineering Task Force (IETF) that allows for the introduction of label switching to Layer 2 and Layer 3 protocols.
MPLS works by taking advantage of the fast switching mechanism of Layer 2 network combined with high scalability, availability and manageability of Layer 3. Instead of using traditional Mac address or IP address based packet forwarding, MPLS use unique labels to attach to each packet as it enters from the end-user's network to the MPLS network. Each hop in the network forward the packets to the destination based on which labels the packets are attached to. The label is then removed upon reaching the destination and the packet re-enter to the end-user's network in its original state. In this way, MPLS brings deterministic circuit switching to a packet-based infrastructure, which gives network operators more control over the network As each label is unique, it can be used to create Virtual Private Network as well as to assign Class of Service for each end-user. MPLS can also handle packets with particular characteristics (such as those coming from particular ports or carrying traffic of a particular application type) in a consistent fashion. Packets carrying real-time traffic, such as voice or video, can easily be mapped to low-latency routes across the network — something that is challenging with conventional network.
Your company has multiple departments or maybe some of your employees work from the outside. You want to share your data in a simple and secure way between the various departments of your company and employees.
You want to save time by stopping to come and go in all the departments for useful information?
Improve the interaction between the departments of your business is a key to success because it makes your business a reactive company.
WiCAM VPN allows creating a private interconnect with every department of your business.
WiCAM MPLS
Facilitate the exchange of information
Improve communication between employees
Protects your company from external threats by securing the transfer of your data